For the Generations: Native Story & Performance Airing in Alaska
Printer-friendly version
Date/time:
May 1, 2012 -

11:00pm

-

11:59pm
The efforts of contemporary Native performers to recast themselves in the 21st century are examined in For the Generations: Native Story and Performance airing on alaskapublic.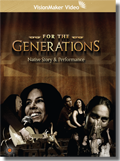 Told through original performance footage and the artists' own words, the program explores health and fitness issues that plague Native youth on and off the reservations.

Part performance, part behind-the-scenes footage and interviews, this documentary profiles the personal stories of the artists in their own words--weaving a narrative through the performances that lends gift and personality to the beautiful artistry showcased.
Also airing: 5/1 at 8PM
For more broadcasting information: http://alaskapublic.org
Signups closed for this Event
Bookmark/Search this post with